Having just finished the "Predator" series of films again, including the AVPs, (and now having moved on to "Alien", naturally

), the extraterrestrial hunters have been on the brain. Supposedly, director Shane Black, who most young folks will probably recognize as the director of "Iron Man 3", is set to tackle the next film in the franchise as writer & director. Black has history with the franchise, having played Hawkins in the original "Predator" (1987). So, I think it's safe to say he has a good idea of how to handle a sequel. In any case, here's a few musings based on what little we know, which thanks to info from the somewhat incompetent, long-time producer of the series, John Davis (who perhaps over-praised "AVP", and thought "AVP: Requiem" was a flawless idea

), appears to be aiming to "reinvent the franchise".
Idea 1: Back when the third film was being conceived, the idea of having Dutch (Arnold Schwarzenegger) face-off against a new Predator during a blizzard in NY was considered. I mention this because since every one of Black's movies takes place at Christmas time, it seems like a good basis to branch off from. Will the Predator be menacing Santa Claus this go round?
Idea 2: Another idea batted around when the third film was being developed involved Dutch & Harrigan (Danny Glover, from "Predator 2" (1990)) being taken to a game preserve planet, and facing off against whatever the Preds threw at them in an arena. Said script was called "The Zoo". An interesting idea, which, if Royce & Isabelle from "Predators" were thrown in the mix could be promising. But "Predators" already tackled the game preserve planet idea (albeit conservatively), and while Arnold would probably be game nowadays, Danny Glover is much too frail and elderly to be playing an action hero anymore. He
literally
is now "too old for this shit."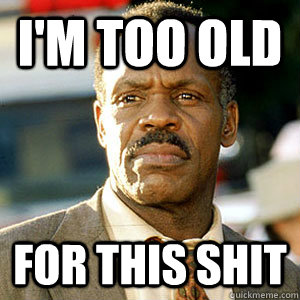 Not that I wouldn't gladly accept his return if he was interested.

Idea 3: This one has been suggested by at least one other fan, in some form or fashion, and that is to have a clan of Preds hunt down a renegade who has committed some terrible crime back on the home-world. This is something that we've never seen before: Predator hunting Predator. We also haven't seen a human being actually hunt down one of the ugly motherfuckers, so if it played by those two angles, we'd have something worth contributing.
But with all that being said, having gone through my journal history again, I think an adaptation of the novel "Predator: Flesh & Blood" is still a good idea for another film. I wrote both these journals 3 years ago, around Thanksgiving & Christmas time, and I've since updated the second with pictures. So please, should you click on the links below, leave comments on the appropriate journal.

Thank You.
Review of "Predator: Flesh & Blood":

Predator: Flesh and BloodHello again, my fellow deviants

. Sometime around the start of this month, the movie "Predators" made its network television debut, and as such I was curious to see how badly edited it was (for content and stuff like that). As usual with these type of things, I found myself irritated. I'll probably pop in the DVD sometime soon so I don't have to deal with that kind of bullshit. But anyway, I remember back when I first got the movie on DVD that I was intrigued on how a fourth entry in the series would play out. Since the first one was in the jungle, the second in the city, and the third ("Predators") on another planet, I wondered where it would go from there. I did some research on the "Predator" franchise in general, and came across the series of novels done by Dark Horse Entertainment, two in particular piquing my interest: "Predator: Forever Midnight" and "Predator: Flesh and Blood", both of which take place in the future (which is something new for the franchise) and on another pl
Cast of Humans & Predators:

Predator: Flesh and Blood Cast, Human and PredatorHey, everyone

. As y'all know yesterday was Thanksgiving, and as such I was with family. I hope everyone had a good one.
To follow-up my journal entry about "Predator: Flesh and Blood" I've decided to make a list of actors I thought would be good casting choices if the novel became a film, as well as drawings of Preds that I thought would be good representations of the Preds from the novel (like I said I would). Anyway, here goes:
Andar Ciejek: Alexander Skarsgard http://www.imdb.com/name/nm0002907/
Derek Ciejek: Stephen Moyer http://www.imdb.com/name/nm0610459/
Yes, I know, some of you may be rolling your eyes at the choices above because of the show "True Blood", but when reading the novel I thought Skarsgard would be a good choice, and given that he starred with Stephen Moyer on the show, I figured it would be a neat situation like how Liam Neeson and Ralph Fiennes were in the movies "Schindler's List" and the recent "Clash of the Titans" and "Wrath of the Titans" together.
Celina